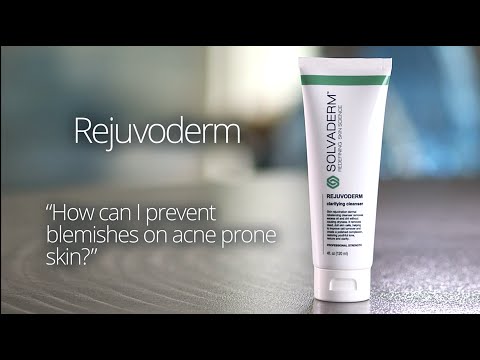 Revolutionizing
Cosmetic Dermatology
Discover Solvaderm's Professional Strength Products For Healthier And More Beautiful Skin.
Rejuvoderm is a professional strength clarifying cleanser, formulated to cleanse your face and strengthen your skin without over-drying or irritating it. Developed by dermatologists to specifically treat oily and/or acne-prone skin, this unique formula contains a concentrated dual blend of alpha-hydroxy acids and conditioning extracts that work together to exfoliate the surface of your skin, preventing breakouts, and promoting collagen synthesis at the cellular level. It will rid the complexion of dead, dull, or damaged cells and purge your pores of oil, dirt, and other impurities, while also improving the elasticity and firmness of your skin.
Usage
Wet skin thoroughly and apply a generous amount of Rejuvoderm to the entire facial area. After massaging gently into the skin, rinse with lukewarm water and pat dry. Follow with your daily skin toner and moisturizer.
Ingredients
Salicylic Acid: a powerful Beta-Hydroxy acid that helps to regulate oil production, making it suitable for anyone prone to frequent breakouts.
Glycolic Acid & Lactic Acid: these Alpha-Hydroxy acids gently exfoliate the skin to remove dead cells, unclogging pores and promoting faster cell turnover.
Lavender Oil: soothes and calms irritated skin while restoring moisture levels to promote a soft, dewy texture.
Benefits
Draws out impurities from the skin, leaving it thoroughly cleansed and less likely to break out in acne or blemishes
Exfoliates the skin using gentle fruit acids, stimulating healing and cell regeneration
Improves skin tone, clarity and texture
Works effectively without over-drying the skin, maintaining the delicate pH balance
Stimulates the synthesis of skin-firming proteins for a firmer, more supple texture
The FDA has not evaluated these statements and this product is not intended to cure or prevent any specific skin condition. Remember to read our labels and ingredient lists carefully and always follow the directions for application. If you have a history of skin allergies, a skin patch test is recommended before use. Avoid ingredients that are known to trigger an allergic reaction and discontinue use immediately should a reaction occur.